The Reason You Should Build With Steel Buildings If You Live In Georgia!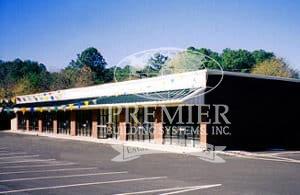 If you live  outside of Atlanta Georgia, Savannah or Valdosta and are thinking about a building on your property, consider a steel building. There are several reasons to select a steel building structure. Some benefits to steel buildings include:
• Quicker Construction time
• Long term maintenance bill savings
• Fewer Job site clean-up expense
• Lower heating and cooling bills due to natural insulating properties of the steel
• Lower Insurance bills
• Enhanced indoor air quality
• Ultimate stability in wind and storms
When putting up a steel building structure, Premier Building Systems, Inc. will give you a building that is custom designed to your specific needs. We have many construction advisors who offer 50+ years of combined steel building knowledge, skill and expertise to insure that not only are all the needed features integrated in the building design but also that your building meets all the codes for your respective county or city. All of our steel building kits come with Certified Stamped engineer drawings and a 20-year paint warranty.
It does not matter if you are considering a new clear span steel building riding arena for your horses, a new clear span steel building airplane hangar for your plane, a new steel building garage to house your car collection,  a metal warehouse for your business or even a metal church building to house your congregation, steel construction is the quicker, inexpensive, environmental-friendly way to approach your next construction project throughout Georgia.
Contact a Premier Construction advisor today for a free quote on your steel building project today at 800-882-5150. To get an idea of steel building prices, click on the button below for a metal building quote.

(To learn more about Steel Buildings in Virginia, click here)