Metal Buildings in Arkansas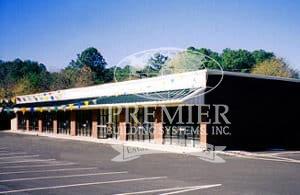 Steel Buildings Are Razorback Tough in Arkansas!
When you need to put a building on your property in Arkansas, it doesn't matter if you live in Fort Smith or Little Rock, steel buildings are the best choice for construction. Why? Simple. Besides sturdy construction, steel buildings are easier to erect, have less on-site cleanup, and are easier to maintain over the life of the building.
When considering a steel building, you need someone you can trust. Premier Building Systems has been in the steel building construction business since 1995. When you call us, we assign you a personal steel building advisor that will guide you through all the things you need to know and be careful about regarding construction on your property. Our prefabricated metal buildings come with a 25-year warranty and are always custom-designed for whatever usage you need. Not only that but we're experienced enough to know that your building will need to be code ready. We've got you covered. Your building will always be constructed according to the legal standards of your area.
Steel buildings are faster to construct and require very little on-site clean-up which saves you money. Not only that, but our buildings are easier to maintain and require less upkeep over time which also saves you money. So, no matter where you live in Arkansas- whether it's outside of Little Rock or Fort Smith, Premier Building Systems has the right steel building for your needs. If it's a commercial steel building or an additional space to keep your farm equipment, our steel buildings are built to last
Pre-engineered steel buildings can be delivered to your job site in Arkansas, quickly assembled, and come ready to withstand the wind and snow loads defined for the zip code where you reside in Arkansas. Whether you are ready to build a steel airplane hangar in Little Rock or need to open your Mini-storage business in Bella Vista and need to have steel mini-storage buildings erected, it does not matter the type or use, for the metal building construction in Arkansas, metal buildings are a first-class choice for your construction project because they can be custom designed to suit your needs, last for decades, are very low-maintenance, and are faster than traditional building methods to have built and the job site clean-up is greatly reduced when you choose prefab steel building construction. For the next construction project, you undertake in Arkansas make sure that you get a free steel building quote and compare the construction costs along with the maintenance costs over several years to get an accurate idea of which construction method is actually more cost-effective for your building project. To get an idea of steel building prices, call an expert today for a metal building quote.
Whether you choose to go with metal building construction or traditional construction you should make an educated decision that includes looking into the practicality of metal buildings. Call 770-239-2085 today to learn how we can be your go-to Arkansas Metal & Steel Building Kit Supplier.
Check out the other locations we serve, including: