Premier Steel Buildings Has It All. Top Notch Quality At Great Prices.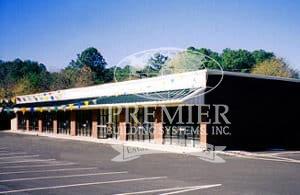 Whether you live in Dallas, Houston, San Antonio or anywhere else in Texas, when it comes to putting a new building on your property, you want the best quality you can find for the most affordable pricing. That's Premier Building Systems. For more than 20 years now, we've worked with organizations and business owners all over Texas and the south to build the best metal buildings around. Our steel building consultants will walk you through the entire process.
In just a two clicks away from getting an idea of the best prices for your metal buildings.
Why A Premier Steel Building? 
Simple. We take pride in our work. We strive for 100% customer satisfaction, so we provide quality with every metal building. Our country was built with steel, and we're carrying on the tradition. Here are some of the ways that metal buildings win out over the traditional construction process:
Metal buildings have more durability than wooden framed buildings
Since most of the construction is done at the factory with prefab metal buildings,construction is more efficient
Onsite construction takes considerably less time with a steel building
There is less waste and faster clean up on site with prefab steel building construction
Steel buildings have less labor costs involved
Like traditional construction, metal buildings can have a variety of doors, windows, exteriors and roofs to choose from
All our steel buildings come with a 25 year warranty
When you contact Premier Steel Buildings, you are assigned your own personal metal building consultant that will take you through the entire project.
Our prefab metal buildings are built code ready regardless of where you live. We do our homework, so you don't have to.
What Type Of Building Should I Build?
Naturally, it all depends on your what your business needs. We customize all that we do to fit your situation.  We have metal buildings all around Texas including metal garages in San Antonio, a steel building retail shopping center in Dallas, a horse stable outside of Houston. Whatever type of building you're considering, call Premier to discuss it. We'll help you decide all the things you need for your new building. With 20 years of experience, we know all the pitfalls around new building construction. Let us help you get it done efficiently.
Get A Quick Quote Today!
Start planning your construction project today. Let Premier Building explore options for your metal building kits! To get an idea of steel building prices, click on the button below for a steel building quote. Find out how metal building prices can make your next construction project more affordable.
For more information about steel metal buildings, click here.