Why You Should Consider Galvanized Steel For Your Metal Building
Why do I need Galvanized Steel? Why not just use red iron steel fro my building?
There are some situations where it is important that instead of using red iron steel you may actually need to build with Galvanized Steel when constructing a new building. One factor to consider when building a new metal building is what it the environment like. If the building is going to be exposed to harsh chemicals or environmental factors, then galvanized metal buildings will hold up longer. Our building advisers can tell you when you might want to consider galvanized steel for your project since we have over 20 years of experience. Each one of our metal building consultants have anywhere from 9 to 22 years experience! A huge resource at your fingertips!
Most metal buildings are made from red iron steel, but our building consultants will help you decide when a galvanized metal building may be more beneficial- it always depends on what's best for the customer. With every aspect of the steel building process, our number one goal is to make sure that we are offering our customers with the best product to fill their specific needs at the lowest possible price. Our 95% referral/repeat consumer rate was established by treating customers right from the first call to the first turn of the keys. Our goal every time we interact with a customer is to help and educate even if we do not get the project … sometimes people just do not believe that you have their best interest at heart. Funny though many times these are the same customers that we help down the road either with repairs or by answering questions when they run into problems.
This is an impressive example of a galvanized metal building under erection in Gillsville, Georgia.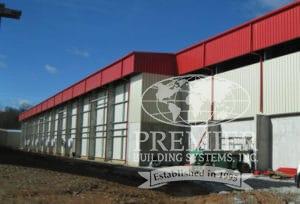 Whether you live outside of Atlanta, Macon, Valdosta, Savannah or anywhere in Georgia, let Premier Building Systems help you with your next metal building project – whether or not you go with a galvanized metal building!