Specialty Metal Buildings Make Construction Easier!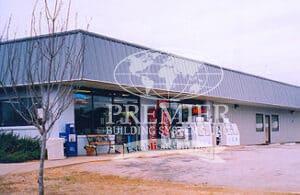 If you are in need of a metal building that does not conform to the standard buildings you have seen, call Premier Buildings Systems, Inc. Premier has been offering steel and metal buildings custom designed and built to meet our customer's needs for the last 20 years. Our highly trained construction consultants listen to our customers wants and needs for their steel buildings and then have our architects draw up plans that meet all of the customer's needs. All of our buildings come standard with Certified Stamped Engineered Drawings and 20 year paint warranties. When our Specialty Steel Buildings arrive on site each and every one already meet all County Code requirements, no matter where we are building.
Some of the specialty metal buildings that we have built include a Church's Chicken built to their specifications for a retail Church's Chicken location, an ATV and Scooter retail sales location in Lawrenceville, Georgia, two story brick office buildings built to the customers' exact specifications, custom steel buildings for a Christian School in North Georgia. These are just a few of the many specialty steel buildings Premier has provided for customers over the last 20 years. We have prefab metal buildings all around Atlanta, Savannah, Valdosta, Macon and Columbus Georgia as well as throughout the southeast. One that is very special to us is the maintenance building we built for the Trump National Golf Course in New Jersey. The reason this building stands out is because the customer knew exactly the way they needed their specialty metal building to be designed and built. Premier was proud to meet all their building specifications. The facility was very pleased with the final product, so pleased that they were proud to participate in a video testimonial to be added to our website. Visit our gallery to  view the completed custom specialty metal building created for Trump National Golf Course.
If you are interested in any size or any design of Specialty Metal Building, call any of our expert building consultants and tell them exactly what you are looking for in a custom steel building. Our professional building consultants have over 30 years of steel building experience and are fully capable of helping to insure that your steel building turns out exactly as you need it to be. All of our specialty steel buildings come standard with twenty year paint warranties, Certified Stamped Engineered Drawings are easy to erect, Maintenance free and meet all County Code Requirements. Call for your free quote today 1-800-882-5150. We look forward to helping you design and build your specialty metal building. Find out how metal building prices can make your next construction project more affordable.

(For information about Steel Church Buildings, click here)