Steel Buildings Are As Tough As Florida Weather!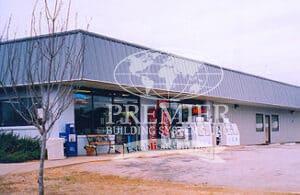 Whether you live in Jacksonville, Tallahassee or Miami Florida (or anywhere in between), you know you need buildings that can take what nature dishes out, and nothing stands as tough as a steel building from Premier. Why consider a steel building? There are tons of reasons to get a steel building to cover your valuables, personal or commercial:
The lifetime of steel buildings is much longer than other alternatives
Steel buildings are economical and require little maintenance
Speed! Steel buildings can be constructed very quickly
Very little on-site clean-up necessary for steel buildings
Commercial steel buildings look great!
So how do you go about getting a steel building erected on your land? Easier still. Just fill out the quick quote form on the homepage. We'll give you a price range for your new building.  It is extremely important that you get the right people to build your steel building. That is where Premier Building Systems comes in offering you the best service for a number of reasons:
Premier has over 20 successful years of experience in steel building construction
Premier steel buildings have a 25 year warranty
At Premier, we custom design to all of your exact steel building wants and needs
Premier provides you with your own personal steel building consultant
At Premier Building Systems, we cut all the parts of your steel building to your exact custom measurements, deliver the parts to your property where you wish to have it built where we then erect the building to its completion. The erecting process is very clean requiring very little clean up. What's more, while we allow you to customize all the dimensions of your building, Premier also makes sure it is up to all local codes before its delivery.
Our slogan at Premier is "The More You Look, The Better We Look!" That is because we don't want to just build you a metal box eyesore; we want to build you a steel building that you will be happy to see standing proudly on your property. We would love to put a building on your property in Jacksonville, Orlando, Tallahassee or anywhere in Florida. So if you are interested in getting the best steel building at the most affordable price, give Premier Building Systems a call at 1-800-822-5150. To get an idea of steel building prices, click on the button below for a steel building quote.

Click here for more information about how to find the best priced steel buildings in Florida