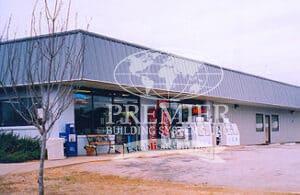 From the railroads to the urban skyscrapers, this country was built on steel. Steel Buildings are versatile- more versatile than most imagine. Steel buildings can be anything from a steel garage for your car collection, a steel airplane hanger, a indoor riding ring, to steel office buildings or even warehouses and factories. No matter the use, Premier Building Systems can design, deliver and erect your custom steel building for whatever purpose you desire.
Premier Building Systems has been providing steel buildings to consumers all over Texas (mostly Dallas and Houston). In fact, we've been serving customers throughout the United States for over 16 years. With a full staff of building construction professionals waiting to answer your questions, we pride ourselves on being available with personal contact to answer any steel building questions fast and accurately. Our desire to help customers with a wealth of knowledge, professionalism and in a timely manner has earned Premier Building Systems and A+ rating with the Better Business Bureau.
If you have a property where you want to start a business with a metal building, or a landing strip where you need an additional airplane hangar, or if you would like to build a large workshop in your backyard to house your classic car collection, contact Premier Building Systems, Inc. for your Free Quote.
Premier Steel Buildings are ALL Steel, predrilled and precut. Our buildings include Certified Stamped Engineered Drawings that are created from your ideas and needs. Also, our buildings are strong because they are strengthened by Purlins that overlap the rafters on all our metal buildings. All Premier Metal Buildings are maintenance free and meet all County code requirements for your location when they are delivered to your work site-whether you're in Dallas, Houston or elsewhere in Texas. All Premier Building Systems steel and metal buildings are A.I.S.C and M.B.M.A certified.
(Learn why steel buildings are Razorback tough in Arkansas)
If you want the best in quality and customer service coupled with great steel buildingpricing call Premier Building Systems at 800-882-5150.