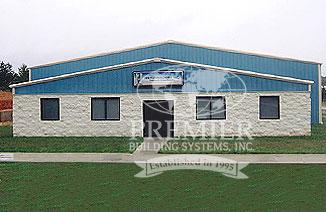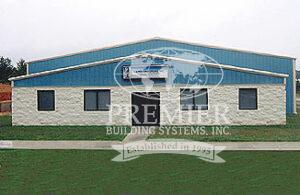 As we travel from place to place in our daily lives, its easy not to notice the gradual little changes around us as time passes. Suddenly, well notice the lot is cleared around the corner, a new building there, a new store there, etc. At most, well think about what they are building, but seldom do we stop to consider all that goes into the actual construction process itself. Rarely do we think about the decisions behind the construction, or why so many people choose to build steel buildings.
Its a fact that steel building construction leads the way with new building construction for a variety of reasons. Homeowners, construction companies, building committees, architects, and engineers will tell you the value of using prefabricated steel buildings over traditional construction, so we thought it was time you heard the what, why, how, and who of steel buildings, as told by our clients. And after 20 years of experience in the steel building construction industry, you can bet we've seen and done it all!
So lets look and answer some of the questions we likely never ask about prefab metal buildings…
The What Of Steel Buildings
Steel or Metal buildings are buildings that are made completely out of steel. Steel is used in our everyday items like appliances, our automobiles, our boats, our farm and construction equipment, and even in the concrete where most buildings attach. So, it only makes sense that we use steel to protect all of our valuable items from mother natures harsh elements, in the form of a prefabricated steel building.
Nearly 70% or more of all commercial projects are made from steel. Metal buildings can be used for a variety of uses such as backyard shops, hay barns, church buildings, retail facilities, strip malls, RV storage, mini-storage units, hobby shops, or you name it. In fact, prefab steel buildings are just not limited in their uses. The availability of metal buildings nationwide makes acquiring a steel building easy. Whether you live in the mountains of Virginia, the rolling hills of Oklahoma, flat lands of Texas, or the swamps of south Georgia, steel buildings can be erected anywhere.
The Why Of Steel Buildings
It might surprise you, but besides amazing strength, prefabricated metal buildings have incredible durability, longevity, reduced waste, reduced construction time, are environmentally friendly, versatile, are cost effective, are easier to build than traditional building projects, and more. Prefab metal buildings don't burn, don't warp or twist over time. They are insect resistant, moisture resistant, and need limited maintenance. When you have this many reasons about the advantages of steel buildings, its easy to make a prefabricated steel building your #1 choice.
The How Of Metal Buildings
Constructing a steel building is easier than you might think. Many of our customers across the country chose to install their steel building themselves. They install faster and easier than many other forms of traditional construction. Since steel buildings are everywhere, finding someone to construct for you is also simple, especially if you are someone who prefers to let the professionals handle it. We have gained many contractors as customers after erecting our steel building. They enjoy the ease in which our product goes together and the service we provide, without having to pay extra to get it.
The Who Of Metal Buildings
Premier Building Systems has been providing steel buildings for the last 20 years. Your neighbors, friends, pastors, farmers, mechanics, and construction companies, big and small, have been choosing Premier when it comes to their steel buildings needs. Our knowledge in this industry has helped us lead our customers to many successful projects. Our commitment to service is second to none. Our standards and quality of product is hard to match. And last, but not least, our pricing makes owning a steel building more affordable than ever. We make sure that you don't have to sacrifice anything based on price. Don't let your neighbors building look better than yours because he bought a Premier Building and you didn't.
This makes choosing Premier Building Systems as your steel building provider an easy choice.