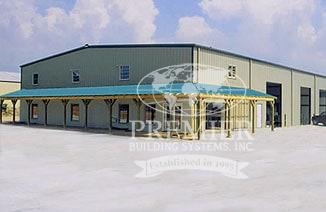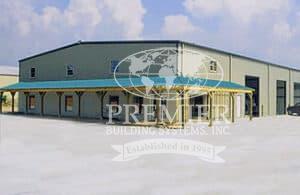 Construction all over the world is growing as well as the cost associated with building structures. Steel buildings are an excellent solution to the numerous complications linked to building in a conventional fashion. In fact, prefabricated metal buildings are the newest in the area of construction, and they provide many advantages compared to traditional construction projects which are made of other materials. Here are a few of the advantages of prefab steel buildings:
Steel buildings are good for the environment as steel is an eco friendly metal and it can be used over and over again. Therefore once metal buildings are demolished; the steel from the building can be used again instead of it lying around and creating pollution to the environment.
A large number of the pre-engineered steel buildings constructed these days are built on the green theory, that is, they are designed and constructed to save max energy and have less impact on the environment. Few of the components of traditional buildings are energy efficient, built with environmentally friendly material and provide a beneficial and healthy indoor living environment that prefab metal buildings have.
Steel buildings are built with great dimensional precision due to the point that they are constructed in-house and then gathered together at the building site. This precision accuracy gives maximum productivity and operation of space.
Though steel is an expensive metal, when the general savings is carefully thought out, it comes out to be an affordable and cost effective building element. The building can become rust proof by putting a special coat on the steel. Additionally, it is insect and termite resistant and the maintenance cost related with steel is much less. A properly built pre engineered steel building Premier Buildings is long-lasting and resistant to extreme weather conditions.
Prefab metal buildings can be constructed anywhere traditional buildings are erected. Premier Building Systems has projects all over the country. Not only that, but the steel buildings can be used for a variety of purposes. We have built retail shopping plazas in Orlando Florida, commercial office space in Charlotte North Carolina, vintage car garages in Dallas Texas and many more!
Steel buildings provide many more advantages to anyone looking for a cost effective and efficient building solution. One word of caution for those who do not know of the different kinds of pre engineered steel buildings found on the market. A few dishonest companies try to sell pre engineered steel buildings that are very profitable to them. Look to Premier Buildings to help you find the best steel building for your home or business that is affordable and cost-effective for you. Contact us today!
For almost 20 years, Premier Building Systems has worked with business owners and others to build prefab metal buildings all across the U.S. We take our reputation on your satisfaction.