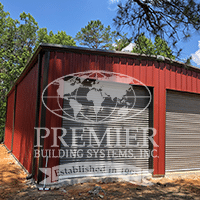 When some people hear metal buildings they think about a metal car port that their Mom and Dad bought to shelter the extra car and the lawn mower or they think about the lean-to metal building that their grandpa had attached to the side of his hay barn to shelter his tractor. Times have changed. Premier Building Systems still offers steel lean-tos to attach to existing barns or as an addition to their newly constructed agricultural metal building in Raleigh, North Carolina. But most of the steel buildings that we erect in North Carolina these days and over the past 23 years are a much more versatile metal building structure. Today we receive calls to design metal buildings for Charlotte to house restaurants that you would never guess was a steel structure under the high-end facades, we build extreme metal building car storage structures in Highlands, North Carolina …these are not your Mamma's carport. These first class car collector metal buildings have all looks and amenities of a five star hotel. When a client from Charlotte, North Carolina calls us with an idea in mind for a metal structure to use as an airplane hangar and home away from home we take that idea for a metal airport hangar and turn it into reality. If a client from Boone, North Carolina just needs a metal housing specially customized for their numerous different motor-vehicles, we can make that happen as well.
With any project that we undertake to build a metal building in the Mountains of North Carolina we make sure that our structures meet all the wind, snow load and county and city codes before they are loaded on a truck for delivery to your job site. For example, if you call Premier Building systems looking for a clear span riding arena for your local Young Farmers of America Organization in Franklin, NC our experienced building consultants will listen to all your needs research your county requirements and then work with our architects to get you the design plans that include all your specifications while meeting all the code requirements specific to the city of Franklin North Carolina and Macon County, North Carolina. When your metal building arrives on the job site for erection there are no delays, our building consultants have over 45 years of metal building experience to make sure that your steel building project moves along as smoothly as humanly possible. When you call Premier Building Systems you speak with a person and your building specialists is your contact from start to finish and in the case of any problem arriving, we do not have special departments that we connect you to that are not familiar with your job. Your building specialist is your contact today, tomorrow and if you ever need us in the future.
We have earned a A+ accreditation with the Better Business Bureau because we care about our metal building customers and want you to keep us in mind for all your metal building projects an recommend us to your friends, family and acquaintances for years to come. When it comes to metal building construction, we are proud to earn your business. Call us today for your free quote, 1-800-882-5150. Find out how metal building prices can make your next construction project more affordable.

(For more information on Clear Span Metal Buildings, click here)