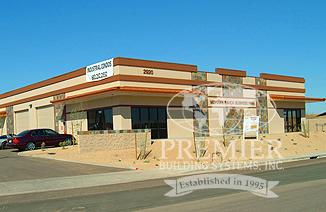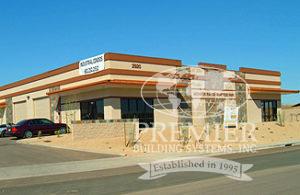 Your new pre-fab commercial steel building doesn't have to be a plain looking steel building. You have the option of enhancing your building to improve its function and curb appeal.
Many great-looking commercial buildings are actually steel buildings. The exterior finishes, including wood and stone, help build your image and attract customers. Many owners opt to brick the steel building whether all four sides or just a front facade (full height, or partially bricked bottom).
When selecting your finishes, consideration should be given to practical, as well as aesthetic, factors.  Perhaps the finish area is high-traffic or high-touch; durability is important.  Will you need an additional R-factor?  A thin layer of stucco may not suit your needs.  As you plan your building, consider using a mixture of materials to achieve your desired look and functionality.
Finish options include:
Wood
Stucco
Stone
Cultured stone
Decisions about the size and shape of your doors and windows will also have an effect on the appearance of your new steel building. Windows and doors can be added or moved so please contact us to learn more about these options. We are here to help you determine the best solutions for your business needs.
Choosing Your Color Finish
Premier Buildings Systems offers a wide selection of metal color choices to satisfy any color need with a 20 year warranty on the finish. The finish is guaranteed to not peel, blister, crack, fade, or chalk.   Click here to see color swatches.  If you see a color you are interested in, just click on the color swatch to see what a new Premium steel building would look like in that color.