Steel and Metal Buildings for Indiana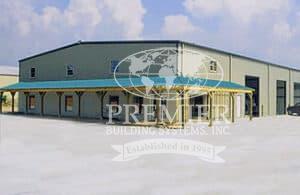 If you are looking for a building that can stand up to everything that Indiana weather can dish out, then consider to build a steel building from Premier. Whether you are looking to build a clear span metal building in Indianapolis or a private airplane hangar in your back yard in Fort Wayne, we can help you build the sturdiest, longest lasting steel building in the state. We can build your steel building to withstand any weather. If you are going to start any building project, contact Premier Building Systems, Inc. We construct custom steel buildings for the property owners all across the United States and for delivery around the world. If you would like to see our portfolio of some of the many steel building projects we have completed and check out our gallery. For an immediate quote on the steel building you have in mind, please call our 1-800 number to talk to one of our experienced metal building consultants. They will help you walk through any individual requests for your building design. Our consultants are experts in the steel building industry and have over 50 years of combined steel building experience. Our custom design software helps make sure that your specialty steel building is designed to your needs. We can make sure that our quotes are the lowest you'll find for the metal building you want to build.
We can build any type of structure in any climate or conditions and meet or surpass the code requirements for the job site. Call Premier Building Systems today to speak with a building consultant concerning your particular requirements for your steel building project.
Also see what we have to offer for steel buildings in Kansas! We welcome adding your custom steel building to our portfolio.