Tough, Durable and Affordable Metal Buildings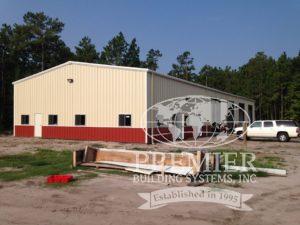 Mississippi is a Southern state rich with farming history. The country side has a lot of farmers who utilize metal buildings for storing their farm equipment, and crops but they are also rich with manufacturing facilities who also benefit from steel and metal buildings to house their manufacturing operations in Jackson Mississippi.
The climate in Mississippi varies widely from one side of the state to the other and from summer where it can be scorching hot to winter where the winds can be cruel. With such variation in weather, property owners need buildings that are as tough as the land. That's where steel buildings from Premier Building Systems can help. For more than 20 years, we've been working with farmers and property owners across the south to provide durable, expandable buildings that don't break the bank.
Whether you will be using your steel building for farming or if you are adding a clear span metal building to your ranch to house your livestock make sure that your steel or metal structure is custom designed to the needs of your agricultural business and to all of your personal preferences. When building an agricultural metal building make sure that the steel building pricing you receive includes all of the essentials you need for your building. You need to make sure to include the correct number of steel doors, windows, roof type, the right thickness of insulation, etc  for your specific use. When you call Premier, you'll work with your own personal metal building consultant who will walk you through all the details that a lot of companies overlook. We'll cover such things as what door types, windows, exteriors, insulation, and so much more. When you order a prefabricated steel building from Premier, we'll ensure that it arrives at the construction site up to code and ready for construction. When it comes to agricultural steel buildings, we'll make sure you get the right building at the right time.
Advantages Of Metal Buildings From Premier
There are many different companies that sell prefab metal buildings, but there are some definite reasons you should always consider calling us. Some of these reasons include:
Premier Steel Buildings has over 20 years of experience
Every metal building comes with a 25 year warranty
When you call us, we pair you up with your own personal building consultant to help you walk through all your steel building needs
Our buildings are always custom designed for your specific needs
Steel building construction is long-lasting
Metal buildings are inexpensive to build therefore cost effective
Prefabricated steel Buildings are quick to have built on your property
Steel building construction has little on-site clean-up
Overall, metal buildings require less maintenance and upkeep
Prefabricated metal buildings are easier to expand than buildings built with traditional construction.
It does not matter whether you live in Jackson, Gulfport or anywhere else in MIssissippi or whether you're storing crops, cattle or equipment, the choice to use a metal building for construction is an excellent decision. Click below to get an idea of metal building prices today.
Click here to learn about Why Metal Buildings Are Better In Greenville South Carolina