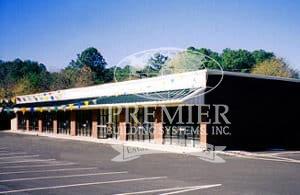 Use A Prefab Metal Building For Your Next Building! Get A Quick Quote Today!
If you need a fast way to put a free standing building on your property, consider all the benefits of a metal building. Whether you need a retail establishment on your commercial property, a garage, an additional building on your church grounds or a large backyard storage building, Premier Building Systems has exactly what you need. Here are some of the advantages of prefab metal buildings:
-Construction on steel buildings takes less time, so your project is completed faster
-You'll save money on the project with a lot less on site clean-up.
-Metal buildings can have energy savings inherent with a green construction project.
-Steel buildings require less maintenance over time.
-Premier Buildings come with a 25 year guarantee.
When you call Premier Buildings, you'll be assigned your own metal building consultant who has at least a decade of experience working with customers to help them walk through all aspects of their steel building construction project. We will help you identify various choices and customization for your metal building as well as help you determine the pros and cons of such things as:
entry door placement
garage door placement
types of window
hardware strength and weaknesses based on class
thickness of insulation
soffit and trim colors in relation to base color or facades
Our steel building consultants have been helping thousands of satisfied Premier Customers since 1995 and are looking forward to helping you custom design your metal building project. We have building advisors with experience ranging from 9 years to 24 years of steel building experience. Our goal is to maintain our stellar reputation and our A+ rated customer service. When you purchase a Premier Building Systems steel retail building or any other custom metal building from Premier Buildings, we want to make sure that you love the final product and will enjoy your metal building from Premier Building Systems, Inc.
Should you have any questions about a steel building or any metal building type do not hesitate to call us toll-free at 800-882-5150. Call us today or click on our quick quote button below to get an idea of metal building prices in Birmingham or anywhere in Alabama. We truly look forward to working with you on your next metal building project.

Click here for more information about the Best Pricing For Metal Buildings In Florida!