Premier Metal Buildings Make New Construction Affordable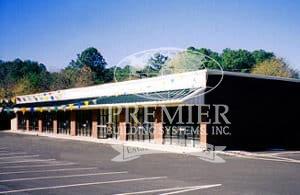 When you're thinking of putting a building on your property to increase the value, it doesn't matter if you need a new barn, a commercial building or a garage, Premier Building Systems can give you exactly what you need. We build metal buildings in Orlando and the rest of Florida that are sturdy, cost effective and tough.
There are a million reasons for new building construction, but the decision always boils down to price. Steel buildings offer a more affordable option over time for a variety of reasons. Some of the reasons include:
Prefabricated metal buildings are mostly built in the factory
Your building is delivered to a readied construction site
Steel buildings require very little on-site clean-up
Prefab metal buildings have lower construction costs overall
Metal buildings have a long lifetime
These buildings require less maintenance over time
Metal buildings also can be expanded easier
Since steel buildings are easily the best building construction option, you also need a metal building consultant that can walk you through the construction process. This way, you can make decisions that help you fulfill the use of your building to reduce space and increase efficient utilization. The newest steel building consultant has more than 9 years of experience helping customers decide things like what type of facade they want, types of doors, window, roof, etc. When you call Premier, we assign all our callers their own metal building consultant to answer all questions along the way, so that the construction process goes right. This helps us maintain the high level of customer satisfaction that we've had for years.
Premier Building Systems can help you lower your overall building costs with a steel building. For more than 20 years, we've been helping property owners in and around Orlando and the rest of Florida put metal buildings on their land for a variety of uses. Prefabricated steel buildings offer the best in stability, durability, and cost-effectiveness over traditional construction.
Why Premier Steel Buildings?
There are several reasons Premier Building Systems is the best choice for you when it comes to building your new metal building:
Premier has 20+ years of successful experience and expertise to offer you
Premier steel buildings come with a 25 year warranty
Premier metal buildings are custom designed to the customer's exact building needs and desires
Premier offers you your own personal building consultant to custom build your new building
Our staff will walk you through everything you need to get the right building for the right usage. Don't settle for a metal building that looks like a big metal barn. Go with a steel building that looks like a normal building- but stronger, more resilient and affordable.
We're the trusted resource for business owners or anyone looking for new building construction. So, whether you live in Orlando, Tallahassee, Jacksonville or Miami, we're the best call you can make for a new metal building.
Our slogan is "The More You Look, The Better We Look". Call us to find out why or click below for a quick quote to get an idea of steel buildings prices..

Click here for more information Affordable Steel Buildings In Orlando Florida