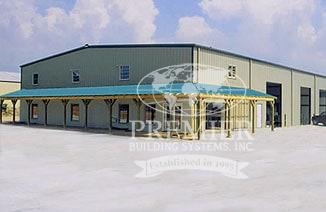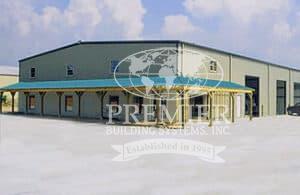 When it comes to building or expanding warehouse space, the construction industry has made significant technical advances in recent decades, but no other construction process exceeds the efficiency of steel buildings. Steel warehouse buildings have surpassed the number of warehouses made by traditional construction methods by a ratio of 4:1. Steel warehouse buildings have definitely arrived as an effective construction option.
The practical uses of steel buildings are as limited as the imagination, but far and away, the most frequent need is for more storage space. Companies often need large open spaces for equipment, machine or product storage. Often, building owners want flexibility in the construction design which involves various layout designs or expansion capabilities. Also, business owners want these options in the most cost effective way possible.
Steel Warehouses
Historically, warehouses were built  without functionality in mind. Companies took over the space and creatively filled it as best they could. The building wasn't built strategically or with function as a priority. This has all changed with the increased usage of prefabricated steel buildings. These buildings are designed with purpose and intent in mind which makes them more efficient in how the space is used as well as how the steel building is constructed. Over time, studies showed that designing the warehouse with function in mind actually saved money whereas before warehouse space was built without any specific tasks for the space in mind. This actually proved to me a more expensive method of construction.
With steel warehouse buildings, business owners contact a steel building provider such as Premier and answer questions about the utilization of the building. Not only is the steel building manufactured and shipped to the construction site, but the building is constructed to specific code (which was configured prior to shipping). So, no matter if the steel warehouse is being built in Miami Florida, Birmingham Alabama or New Orleans Louisiana, the construction process is the exact same. The difference is in the individual business needs.  This is a much more efficient construction process that reduces waste and saves time.
As companies started to understand the advantages of steel storage buildings and how they can be specifically designed to match their purposes, steel warehouse buildings then started to become the primary option. There is no doubt that steel is still unmatched as the leading building material for warehouses. Every steel warehouse has common features to make decisions about such as clear span capabilities, maximized space utilization, thermal efficiency and other features that help control long term costs. These options put efficiency and savings in the forefront of construction.
Besides saving money on material cost and construction time, steel warehouse construction has several other notable advantages which include:
Steel warehouses are made from high grade steel and can have a vertical clearance of up to 300 feet wide. Because of this, steel buildings require few interior columns if any at all. This makes the structure very flexible with respect to space utilization and layout.
Steel buildings are built to withstand all weather conditions. They can be further reinforced to stand against the possible harsh environmental situations specific to the company's location. So, buildings in Orlando can be hurricane proof; warehouses in Birmingham can withstand tornadoes and flood proofed in New Orleans. Moreover, high-grade steel is non-combustible which makes them naturally fire resistant.
When a business grows, the cost of expansion can be limiting. With steel warehouses, expansion is as simple as designing the layout, removing the endwall & roof panels and extending the framing to make the necessary expansions.
Mini Steel Warehouses
As our society has become increasingly more mobile, it has created the need for mini-warehouses or self storage units. Steel mini warehouses have the same advantages as traditional steel warehouses except they are smaller. These storage metal buildings are easy to build and can be portable if need be. They make an excellent choice for both permanent and temporary storage needs.
While it's clear that steel warehouses are the most efficient, cost effective way of building, many business owners continue to use traditional construction methods because they simply don't understand the benefits. Call 1.800.882.5150 to talk to a steel warehouse building consultant today.