For Steel Building Construction, You Need Three Things- Reputation, Quality, Price. Premier Building Systems Has All Three.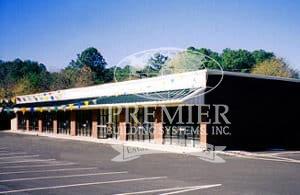 Whether you live in New Orleans, Baton Rouge, Shreveport or anywhere else in Louisiana, Premier Steel buildings is the best call you can make when it comes to new building construction. If you look out across you property and think, "I would love to see a new building there for my (insert your needs here)", then your first call needs to be to Premier. Why? Simple. We'll assign a steel building consultant that will ask all the right questions and walk you through the entire project. This helps you make all the right decisions for your needs and helps you avoid mistakes that can cost you time or money.
With more nearly 20 years of experience, we've put prefabricated steel buildings all across Louisiana as well as the country. Our metal building consultants have years of experience. In fact, our newest guy is coming up on 10 years at Premier alone! There's very little we haven't seen or built. Let our experience guide yours. We can have your project started in just a few clicks or a phone call.
Just as an example of our work, we have built a vintage car garage outside of Shreveport, a retail plaza in Baton Rouge, a garage in Metarie and several metal buildings in New Orleans. We have several steel building projects in the works around Louisiana. Call us to find out which one of the metal building kits is right for what you need.
Our goal is simple. With every prefabricated metal building project, we want 100% customer satisfaction. We don't have prepackaged plans to sell you. Our steel building consultants spend a lot of time asking you questions and paying close attention to the answers because we understand that your building project is your baby and we want to make sure you get everything you want and need.
People often have misperceptions about steel buildings. They think they're too expensive or won't look right. The truth is that prefabricated steel buildings can save you money in many ways and you select the look and feel of the exterior. With all the choices you have, no one with ever know it's a steel building! Let us help you determine which metal building kits work best for your needs.
Why A Steel Building? Why Premier?
When it comes to new building construction, you can only afford to go with the best. That's Premier Steel Buildings. We achieve excellence in all we do. This country was built with steel and Premier keeps the tradition alive. Here are a few reasons prefabricated steel buildings are better than traditional construction projects:
Durability. Steel buildings can handle more of what mother nature dishes out which means less money over time with repairs.
Prefab metal buildings require less maintenance and painting over time.
Most of the construction with steel buildings is done at the factory which means less on-site construction and lower construction costs.
Metal Buildings can be erected faster than traditional construction projects.
There is much less waste with prefab metal building construction which means less to haul away and lower costs.
You can select any exterior look and feel you want which means you can't tell the difference between a metal building and any other type.
Ease of expandability- prefab steel buildings are much easier to add on to than traditional buildings.
All Premier Steel Buildings come with 25 year warranties which is the best in the business.
Few other companies give the personal 1:1 service that Premier Buildings provides.
Our prefab metal building projects are built code ready regardless of where you live. With all of our experience, we do the homework so you don't have to.
What Type Of Building Should I Build?
When it comes to your new metal building, we always say, "Let the building's purpose drive design". Beginning with the end in mind helps identify what types of space you'll need. This will dictate a good bit of the building design. Our consultants work with you to determine your needs. There are a lot of reasons to have a new building put on your property in Louisiana. Let our our steel building experts help you figure out and build exactly what you need.
Get A Quick Quote Today!
Stop wondering about your construction project, and start planning today. Let Premier Buildings help! Find out how metal building prices can make your next construction project more affordable.
Click here for more information on the best prices on steel buildings in Alabama