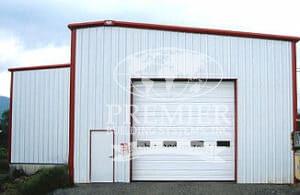 It's no secret that in the last few years, advancements in the design and implementation of prefabricated steel buildings have led to this option as the leading choice in the construction industry today. Today's steel buildings can be designed for every conceivable need and purpose imaginable. The technology around steel buildings has changed, but one thing remains- the practicality of building with steel.
One of the first things to keep in mind regarding steel buildings is that suppliers of steel buildings are mostly the ones who also manufacture them. This means, you are dealing with only one company, from the design, manufacture, and up to the shipping process. This not only eliminates the need for having to look for suppliers of other building components, but it reduces the cost since fewer middle men mean less mark ups with the construction process.
Also, dealing with one steel building company means that the whole structure and all accessories arrive at the same time. An added convenience is that you deal with just one supplier in case you have questions or issues during or after construction. When dealing with Premier Building Systems, you get a personal building consultant from the very first phone call that walks you through the entire steel & metal building construction process no matter if you live in Miami Florida, Louisville Kentucky or Alexandra Virginia (or anywhere in the United States for that matter!).
It's simply a given that when you decide to on a prefab steel building, you are deciding to save time and money. Since all the components are pre-engineered and assembled at the factory, the actual erection process requires less manpower which reduces the labor costs. The actual construction process goes faster and is more efficient because there is no more need for fitting, cutting, welding, and drilling. In fact, the more experienced the steel building firm is, the more efficient the process. For example, Premier Building Systems has been in the business of prefab steel building  construction for more than 18 years. There's very little they haven't done or seen when it comes to steel building construction and design.
One thing that most steel building owners don't consider is that if they ever decide to expand onto their steel building, it's a relatively straightforward process. The process is as easy as removing an endwall and corresponding roof panels and then replacing them after the new steel framing and wall have been added. Best of all, this extension comes at a very reasonable cost with minimal interruption to normal business operations.
Since steel buildings are pre-engineered or prefabricated, there is very little scrap metal that occurs during construction. It's not unusual for there to be less than a single cubic meter of recyclable scrap metal to be produced upon construction of a 200 square foot steel or metal building. This means a prefab steel building actually helps the environment by producing less scrap.
Common Uses of Steel Buildings: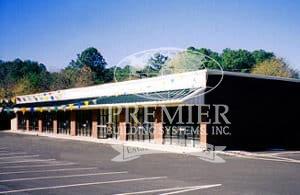 It's not uncommon for colleges or universities to use steel buildings successfully with construction of steel church buildings, school buildings and other structures around campus. Steel buildings are fast and efficient to construct, making them attractive to school boards and administrators. Often, budget constraints make steel buildings a wiser alternative to traditional construction. Modern Steel buildings are cheaper to construct, can be designed for any usage and there is minimal disruption in the daily activities and schedules on campus because they take lesser time to build. Colleges have constructed steel buildings on campus near Birmingham Alabama, New Orleans Louisiana, Jackson Mississippi, Charleston South Carolina and Memphis Tennessee.
In the business and commercial sectors, commercial steel buildings are becoming more common. Car dealerships have recently used steel buildings more prevalent because of the simplicity and speed of construction. Often, they need buildings with wide, open spaces where cars can be displayed, and with corresponding mezzanine floors to hold offices as well as storage of car parts. Steel buildings offer solutions to these requirements because they provide column-free spaces and high ceilings, where mezzanine floors can be constructed. It's also not uncommon for steel buildings to be used in the agricultural industry as well. From barns to storage facilities, farmers are taking advantage of how efficient steel buildings are to construct.
When it comes to construction, steel buildings just make good, practical sense. The design and construction options are as endless as the imagination. Call Premier Building Systems at 1.800.882.5150 for a free consultation or fill out the quick quote page online at https://premierbuildings.com/