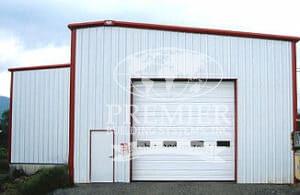 Steel buildings are a great choice, as the material they are made with are light weight and cost effective. They can be easily assembled because they come in panels. It is very easy to construct steel buildings and people prefer them because of these qualities. Premier Buildings specialize in manufacturing steel panels and roofs which can be assembled into complete structures. They can be used as storage buildings, garages, etc. If you need a building on your property, then you can look for to us to provide you with the best option to meet your needs.
Prefabricated steel buildings are the most durable buildings known, and therefore can last significantly longer as compared to the standard buildings. The metal never crumbles, which makes it easy for the owner to maintain. Plus, our buildings come with a 25 year guarantee. One very important feature of a prefab metal building is the customization, as the metal can be cut and assembled according to the prospective property owner's needs. Premier can construct your building with flexibility and ease, without having any concern of building each part in one particular way. Steel buildings are affordable and have true value.
The most appealing part about steel buildings is that they can be made according to your wishes. If you are looking for the best in new building construction, we recommend going with a steel building. Whether you live in Atlanta, Columbus, Savannah or Valdosta Georgia, let Premier Buildings help! We will provide you with the best and cost-efficient services. Call today!