The Best Metal Buildings You Can Buy!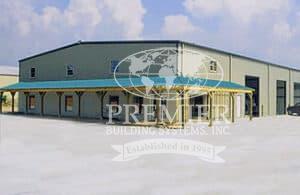 When it comes to new building construction in New Orleans, you know you need something that is durable, tough and affordable. Premier Building Systems is the right place to turn. For more than 20 years, we've been providing excellence and outstanding customer service when it comes to steel and metal buildings for all uses. Metal buildings are used for all types of commercial, industrial, and agricultural applications. They've become more and more popular for commercial and industrial building projects. Steel is strong, versatile, durable, and is the best value for a long lasting structure, making it an excellent building product.
When you think of metal buildings, we're not talking about some metal shed anymore. With all the technological advances in metal products and materials, we're able to use a steel structural system combined with a system of masonry, glass and wood exterior facades, adding an aesthetic component while preserving the inherent characteristics of a tough metal building. As a result, our prefabricated metal building systems are perfect for office buildings, showrooms, retail stores, banks, schools, warehouses, factories, and community centers. The increasing trend toward a more sophisticated design is one of the greatest advantages in the metal building system.
The real distinction from other types of construction is in the methods and economy of the system's design, manufacture, construction, and long-term performance. Your metal building kit will consist of precisely engineered components, including primary and secondary framing members, wall components, a roof system, and any number of accessory subsystems from a high quality manufacturer. All of the pieces of the kit arrive from the distributor working together, forming a structure that meets all code requirements. Buildings can be constructed so an expansion can be completed without disrupting daily operation.
The Advantages of a Premier Steel Building System
Our metal building systems have several advantages over other methods of construction.
Shorter Construction Time
Generally, it takes less time to construct metal buildings than other building types.
Construction time and weather interruptions are reduced since most of the work is done in the factory by the manufacturer and supplier.
Lower Construction Costs

A pre-engineered steel building reduces the cost of on-site labor. Manufacturer pre-assembly of components for our metal buildings reduces the need for skilled on-site construction labor otherwise required for traditional building methods.
Manufacturer pre-formed steel framing eliminates the cutting and fitting of components on-site. Steel walls can be fabricated and factory assembled in sections and delivered to construction sites in kit form by the supplier.
Greater Ease of Expansion.
Metal buildings can be modified quickly and economically before, during, and after the building is completed for all types of expansion.
Expanding metal buildings can be as simple as removing the end or sidewalls, erecting new framework and adding matching wall and roof panels.

How does Premier Stack Up with the Basics of Steel Building Systems:
Design & Function. To consider the various properties and characteristics of steel, refer to the published manuals of two organizations: The American Institute of Steel Construction (AISC) and The American Iron and Steel Industry (AISI). Premier Building Systems building products, where applicable, are designed in accordance with AISI and AISC specifications. This is an assurance that you are buying quality components manufactured in compliance with strict design and engineering standards from a quality distributor and manufacturer.
Manufacturer. All steel buildings furnished by Premier are manufactured by members of the Metal Building Manufacturers Association (MBMA). We choose only those who are certified under the American Institute of Steel Construction's Certification Program in Class MB, Metal Buildings. Premier quality starts with a certified manufacturer.
Construction. Metal building systems construction is up to one-third faster than other types of construction. Steel buildings feature a reasonable initial cost, and economy is enhanced by building components arriving at the jobsite from the distributor in kit form ready for immediate assembly and erection. This facilitates firm construction timetables, provides faster occupancy, and saves you money.
Long-Term Performance. Premier's steel buildings are designed to lock out the elements, providing ultimate customer comfort. Properly insulated building systems can produce high thermal efficiencies and lower energy costs. High-quality paint coatings resist cracking, peeling and fading. These coatings are backed by manufacturer warranties of up to 20 years.
Quality. Using AISC certified products provides additional assurances about Premier Building Systems:
Premier Building Systems is committed enough to quality to subject itself to an outside review.
Premier has been reviewed by an evaluator with extensive experience in structural steel fabrication.
Premier Building Systems, as a distributor and supplier, delivers quality kit systems and has dedicated the resources to provide superior work to its customers.
Certification improves the quality of the partners on the building team.
It enhances the chance for a positive working relationship with the supplier and construction crews on projects you are designing.When planning a metal building it is very important to account for all changes that may be made to a standard building configuration. Select a building component to learn more about it.
So, whether you need storage buildings in New Orleans, storage sheds in Shreveport or metal building kits in Baton Rouge, Premier Building Systems provides the best customer service in the industry. We earn our reputation on every call. Click on the quick quote button to get an idea of metal building prices today.
Click here to learn about how Metal Buildings Are Mississippi Tough in Jackson