Premier Gives You Metal Buildings That Are Tough!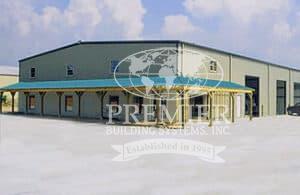 While Alabama gets its fair share of storms, Premier's  metal buildings are solid and can withstand a high amount of force from the elements.
What are you looking for in a steel building? Your specific needs of a steel building in Montgomery can be totally different from your needs in Mobile, which are totally different from your needs in downtown Birmingham! If you are getting ready to start a building project anywhere in Alabama, and you are looking at different building material options, you should consider using metal for your next project because of its natural properties. Steel buildings are quicker to have installed on your property, job sites require less clean-up time and cost less than conventional project sites, and saves their owners money due to the lower cost of continued maintenance long term.
Not only are metal buildings constructed to last, they save you money upfront on job site expenses, and in the long run, due to lesser maintenance. When you deal with our metal building consultants, who have over 60 years of combined expertise, then you can be sure that you will be well taken care of. With all the different code requirements and building codes, we'll help you make sure everything arrives on site ready to pass inspection. We custom build our prefabricated metal buildings so that when it's delivered, construction goes much more smoothly than traditional construction- regardless of where you live in Alabama.
You might wonder, "What is the big deal?" Aren't all locations the same and don't you just ask for a specific size and have it delivered and constructed and you're done. Right? Wrong. Each and every area has their own loads and codes based on where they are in the country or even within a state. For example, Montgomery may have completely different loads and codes than if you were going to build in Mobile or possibly different than Tuscaloosa. When you talk to our experienced building consultants one of the first questions they will ask you is the zip code where the building will be built. This helps them from the beginning make sure that this project gets off on the right foot and that when the steel building arrives that it will be permitted properly because it will meet all load and codes for any area that you want to build in Alabama. Whether it's a new steel building on your farm or a commercial steel building, Premier will guide you through what needs to be done.
To get an idea of metal building prices, click on our quick quote button below. We'll give you the direction you need for all your metal building needs.

Click here to learn about Metal Buildings That Stand Solid In Nashville