Build A Premier Modular Steel Building In Wisconsin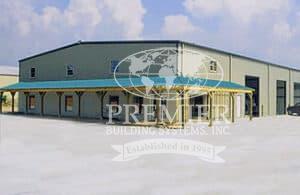 From Milwaukee to Madison in Wisconsin and all across the United States, Premier Building is the professionals to see about creating a modular steel building. If you're looking for a cost effective, low maintenance way to be able to build a Modular Steel Building in Wisconsin, you should seriously take into account the benefits of utilizing the modular steel buildings offered by Premier Buildings Systems, Inc. If you need the simplicity of telling our exceptional customer service professional steel building experts what you want and then agreeing on number of windows,  etc., along with our incomparably low price and then having it delivered ready to be erected. The reason it arrives already for erection is because we supply you in advance with Certified Stamped Engineered Drawings and our steel buildings always meet all County code requirements. We try to make your modular steel building project as easy and hassle free as possible. It is the reason that 90% of our customers come back over and over for all their modular steel building needs.
Not only can our modular steel building be the perfect solution for the private sector, but also in commercial arena, whether you need to have a modular steel building to store agricultural equipment or are ready to build your vision of a backyard workshop and storage area for all your toys, we can design the building exactly the way you want it customized for your specific uses. You may want a modular steel building that has a main building used for a shop and then a lean to shelter added where you can back under a custom coach or large boat, no matter the use or need, we can build your desired steel building.
The benefits of prefab steel buildings include:
Faster construction times
Ease of design
Variety of facades, doors, windows, etc.
Lower construction costs
Less waste
Easier construction clean up
Easier maintenance
Let our prefab metal building consultants walk you through the entire construction project regardless of how large or small. After nearly 20 years of experience, we have exactly what you need.
(Learn more about Steel Buildings in Orlando, here)