Numerous Uses For Steel Buildings
Metal buildings have become a more common mode of construction in recent years. Among the states at the top of the list is Georgia. What reasons would a builder choose to build a structure out of metal rather than wood?
Metal lasts longer- they do not rot or deteriorate over time.

Steel is resistant to fire, wind and storms.

Pre-fabricated steel frames significantly reduce the amount of building waste.

Steel maintenance cost is lower, if maintenance is even needed at all.

Ease of care associated with a prefabricated metal building – they do not need painting every couple of years, they do not require expensive treatments for wood destroying organisms.

Less clean-up on the job site –with metal building structures there is very little debris to discard when the job site is ready to be cleaned up.

Fast assembly time from start to finish –with a pre-engineered steel building you can have your new structure ready to utilize in a much shorter time than a comparable wooden building

Guarantees –When you purchase a prefabricated metal building kit you receive guarantees for the quality of the product.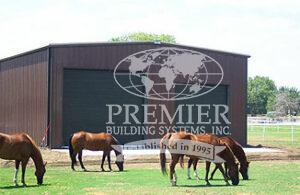 Why Use Premier Building Systems For Steel Building Construction?
There are a variety of reasons Premier Metal Buildings is your best choice for a steel building:
Fast construction

On-site clean up

Lower hauling/dumping costs

Easier construction

Reduced labor costs

Our metal building consultants have decades of experience

We offer a 25 year guarantee on all our buildings
Get a quote from Premier Metal Buildings today! We want to give you the building you need with the least amount of stress and hassle possible. Our newest steel building consultants have been with the company for about a decade, so we can walk you through everything you need to watch out for when getting a new building. Prefab Steel buildings are what we do and they are all we have been doing since 1995. What can we help you build today? Click here for more information on Metal Buildings in Birmingham, Alabama